How to protect your rental property in Binghamton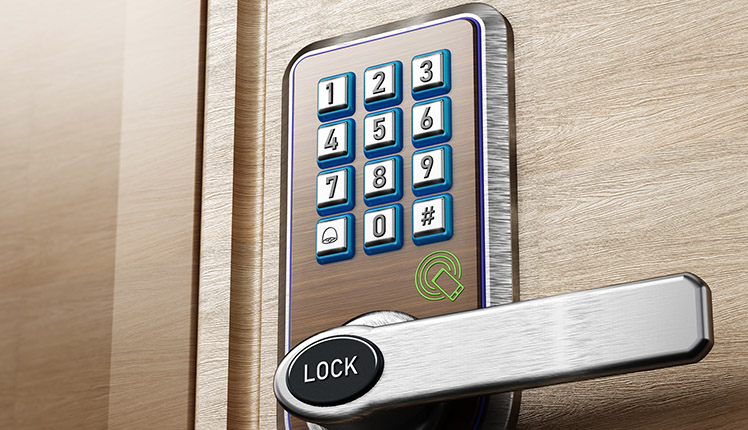 Whether you lease out your family's cottage or you run an assortment of Airbnbs, you may find it challenging to protect your rental properties in Binghamton. Unless you're always on site, it's simple to think about keys getting copied or past renters unexpectedly showing up. Not to mention, what would you do if there's an emergency like a fire at your Airbnb while it's being leased?
From smart door locks to fully automated security systems, here are some top recommendations on how to protect your Airbnb in Binghamton.
Eliminate those easy-to-lose keys by switching to smart door locks
When a visitor vacates the premises, they could return all keys for the following inhabitant. On the other hand, if they grabbed or secretly made copies of a key, they could sneak back in later. Of course, you might switch out your locks when a key goes missing, but that creates delays and cuts into your revenue.
You'll want to put in smart door locks that work in conjunction with your home's security to put these concerns at ease. You will then give each renter their personalized access code. When they check out, there's no reason to mess with an exchange of keys. Instead, simply program the codes to expire when they're gone. If past lodgers return and try their prior entry code on the number pad, you will be alerted with a message of the failed attempt on your smartphone.
A smart security system makes available rentals look occupied
The goal is that your Binghamton rental property will be occupied, but that's not always true. Despite this fact, you need to make it appear that people are present so your Airbnb isn't an easy mark for burglars. Installing home automation into your property's security affords you the opportunity to take advantage of smart lights, motion sensors, and security cameras that make your lodging appear inhabited.
Start by scheduling some lights to switch on at specific hours of the day. You will also want your security app to alert you if your video cameras spot an unwanted guest prowling around your perimeter or walking toward the front door. You then are able to take advantage of the talk functionality to make them know you're watching or arrange for your lights to instantly turn on when a camera or motion detection equipment uncovers suspicious activity.
Protect your Binghamton Airbnb with 24/7 monitoring
Your tenants can sleep easy if they feel protected from criminals, especially when Binghamton is unfamiliar territory. If a robber makes an effort to break in, your home alarm system will not only sound a siren but will also alert your 24-hour monitoring agents. Even if you're not available, assistance will be on its way. Your monitoring experts will even act as your authorized go-between and loop you in whenever you're available.
In addition to home invasions, your monitoring center can be connected with fire alarms, water sensors, and CO detectors. It can be distressing for your renter if a water heater springs a leak or something catches fire. Not only will you receive a cell phone alert that a potentially dangerous event has happened, but a representative will also authorize emergency services while you're in transit.
Request an innovative home protection plan in Binghamton
Protect your rental property in Binghamton when you get the latest in home protection. Thankfully, Vivint has popular choices like smart lights, smart locks, and around-the-clock monitoring. Reach out today and our experienced team will design a system that makes sense for your Airbnb or rental property. Call (607) 600-9610 or complete the form to get started!
Communities Served Around Binghamton By Smart Security Specialists Your Local Vivint Authorized Dealer